KANGKANGEE Village Tour
KANGKANGEE Village is one of the unfamiliar areas even for the people in Busan, but it is also an attractive village that gives an strong impression to visitors. Hence, we are operating the tour program that enables visitors to experience not only the unique environment, history, and life history of the village, but also the public artworks and village museums created by the cooperation of private art managers, public administrators, artists, and residents.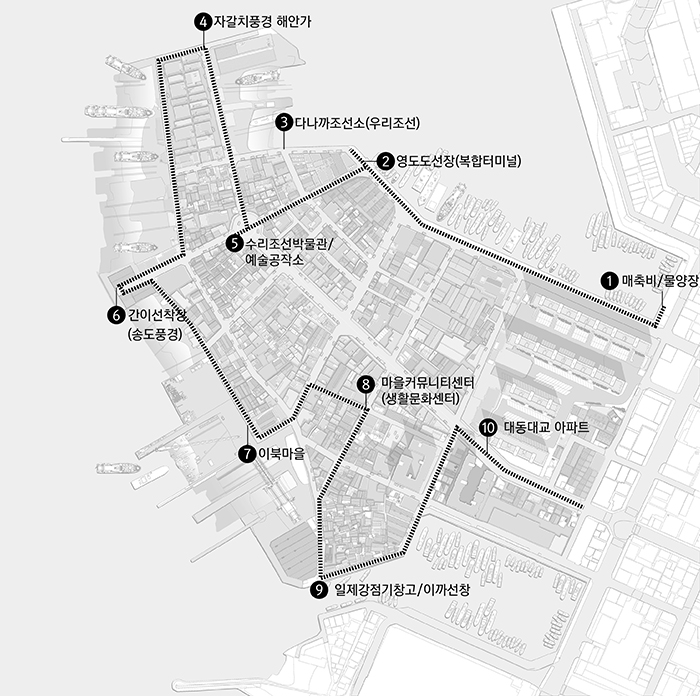 A course to explore various public artworks and base space established in KANGKANGEE arts village in 2016
1. Reclamation Monument/Lighters Wharf &Light Project
2. Yeongdo Ferry &Two-story Terminal coming soon
3. the Street Museum about Tanaka Shipyard(Woori-Josun) &the Birthplace of Ship-Repairing coming soon
4. the Coast with a Landscape of Jagalchi &Kinetic, Light Project
5. Ship-Repairing Museum, and the arts workshop will be made &Artistic Bench &Symbolic Sculpture of KANGKANGEE Arts Village at the Opposite side
6. Simple Dock (Song-Do Landscape)
7. North Korean Neighbourhood &Ssamji Garden Nearby, Light Project
8. The Village Community Centre (Living Culture Centre)
9. The Warehouse during Japanese Occupation &Ika Pier
10. Daedongdaegyo Apartment &Artistic Bench
― Time Required: about 60 minutes
― Total Distance: about 1.7km
We plan to make a tour map of KANGKANGEE Arts Village linking various works to be installed in 2017 and base space such as village museums.